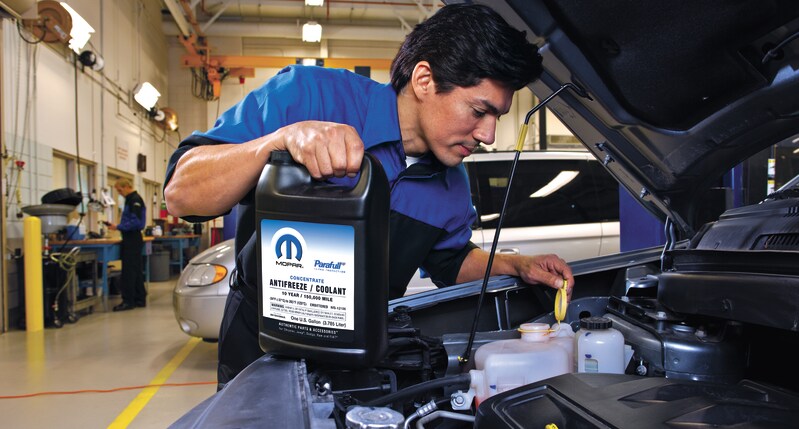 Your One-Stop Shop for Auto Coolant Services near Medford & Stevens Point
Have you noticed lately that your vehicle isn't functioning like it used to? Has your check engine light lighting up throughout your commute, and have you noticed an orange or green leak from your engine? If so, this is a vehicle problem that deserves immediate attention. Your coolant is leaking, and if you fail  to repair this issue, you could further damage your vehicle.
How Often Should I Change My Vehicle's Engine Coolant?
Times for engine coolant replacement varies on all sedans, crossovers, trucks, and SUVs and checking the owner's manual is a wise choice to know the recommended mileage for exchanging coolant. However, most cars change coolant after 60,000-miles and then every 30,000-miles after.
How Does Low Coolant affects AC in Car?
When your coolant is low, leaking, or outdated, you will not only notice an effect on the performance of your vehicle, but most likely you will notice that your engine is overheating, which may warm the cabin of your car. Whether you are at a complete stop, or in motion, if the air circulation in your coming through your vents appears warm, you may need to replace the coolant or antifreeze.
Schedule Coolant Repairs or Service near Colby and Merrill, WI
Our team of auto experts knows what's right for your vehicle and if you have a coolant leak or your coolant is running low, schedule an appointment with our auto service center by filling out and sending in an online service application. You may also schedule by calling our service desk at (715)301.0436 and speak with us if you have any questions on your vehicle. We cater to all your vehicle needs here at Brickner's Wausau, so visit our service center today to keep your vehicle running at optimal levels of performance for the long term!